Music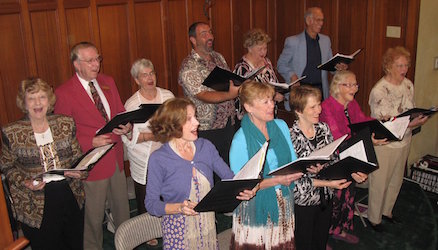 Welcome to PSPC Music pages
The audio on this section is for our own reference only, recorded in the simplest way during Sunday Services, choir rehearsals, or artificially created in the MIDI studio..., in the purpose of helping our choir members in their own individual studies.
The Music Planning section shows music selections for Church Services, while the Music Archive lists individual pieces which may or may not have audio recordings attached to them. We are working on filling in the gaps, so stay tuned...
Under "Worship Services" there are complete audio recordings of Services, including Sermons, as taped on the date stated.
We are meeting for rehearsals Thursdays at 4 PM, and Sunday Mornings at 8:30 AM for a final rehearsal before Sunday Services, which start at 10 AM.
New members are welcome!...
---
Select a page to visit:
---
Golden Rules for Ensemble Singing
Everyone should sing the same piece.
Take your time turning pages.
Do not worry if you do not have perfect pitch - you may find singing less stressful without it!
The right note at the wrong time is the wrong note.
The wrong note at the right time is still a wrong note.
A wrong note sung timidly is still a wrong note.
A wrong note sung with authority is an interpretation.
A true interpretation is realized when not one note of the original remains.
If you happen to sing a wrong note, give a nasty look to one of your neighbors.
If everyone gets lost except you, follow those who get lost.
If you are completely lost, stop everyone and start an argument about repeat marks.
Strive to achieve the maximum notes per second - that way you at least gain the admiration of the totally incompetent.
If a passage is difficult, slow it down. If it is easy, speed it up. Everything will work itself out in the end.
Markings for slurs, dynamics, ornaments and breathing should be ignored. They are only there to embellish the score.
When everyone else has finished singing, you should not sing any notes you may still have left.